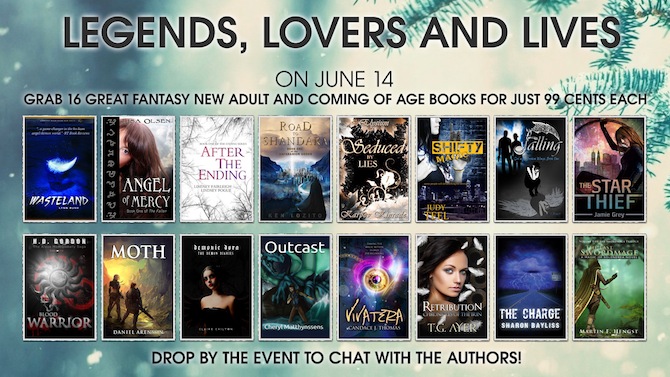 Here are the books for the "Legends, Lovers and Lives" event! On June 14, 2014, all the books will be dropped to 99 cents! Click on the book covers (above, links coming soon) or the links/covers (below) to check out the books on Amazon.
Go back to the Facebook event to chat with the authors during the event.
Road to Shandara by Ken Lozito
Aaron Jace was just a normal college kid who'd never heard of a place called Shandara until he discovers two mystical swords among his deceased grandfather's possessions. Now Jace will be pulled into a war that spans worlds where the deciding weapon is…him.
Angel of Mercy by Lisa Olsen
When Mercy wakes up in the hospital after a brutal stabbing, she has little recollection of the attack – only the blurred memories of a mysterious stranger with piercing blue eyes that haunts her dreams. Her savior turns out to be less than human, or is he more?
Blood Warrior by H.D. Gordon
When her home is attacked by murderous vampires, 17-year-old Alexa is forced to leave her mother for dead in order to save her sister. She soon learns that she is the last known member of an elite race of supernatural warriors, and is thrust into a world full of vampires and werewolves who all seem to regard her as some sort of savior.
Falling by J Bennett
When a stranger murders Maya's boyfriend with a single touch, drags the college sophomore to an abandoned storage unit, and injects her with a DNA-altering serum, Maya prays for a savior. Instead, two young men claiming to be her half-brothers pull off a belated rescue. Now Maya is swiftly transforming into an "angel", one of the scientifically-enhanced, energy-sucking creatures her brothers have spent their whole lives trying to destroy.
Shifty Magic by Judy Teel
Addison Kittner makes her living as a private investigator and bounty hunter. One night she comes across a girl about to be killed by three rogue vampires. Addison kicks some vamp butt and saves the girl. Just her luck, one the escaped vampires turns up dead the next morning, inspiring the vampire leaders to put pressure on her to solve the case or take the rap. As if that wasn't bad enough, her ex-lover, werewolf FBI agent, Cooper Daine, gives her an offer she can't refuse…a paycheck. Mixing business with lust is never a good idea, but neither is starving.
Wasteland by Lynn Rush
Bound by the blood contract his human mother signed four centuries ago, half-demon, David Sadler, must obey his demonic Master's order to capture fifteen-year-old Jessica Hanks. But as he learns more about her, he realizes she may be the key to freedom from his dark enslavement.
Demonic Dora by Claire Chilton
Dora Carridine is trying to summon a demon, but she's not very good at Latin and nothing ever works out the way she plans. Her life is fraught with weekly exorcisms and having to watch her father's fire and brimstone TV show every Sunday. So, when Dora finally succeeds in summoning an incompetent demon lord, she's absolutely delighted when all hell breaks loose.
Retribution by T.G. Ayer
Evie belongs to the Brotherhood Irin and together with all the other Angels of the world she is protector to humanity, protector against evil. But evil has found its way into the Brotherhood. Someone has murdered her guardian and Marcellus, the New Master makes demands of the warriors that go against all they stand for. Demands Evie just can't carry out.
The Charge by Sharon Bayliss
When the King of the Texas Empire kidnaps Warren's brother, Warren embarks into a still Wild West to save him. On his journey, he makes a discovery that changes his life forever–he and his brother are long-lost members of the Texas royal family and the King wants them both dead.
Moth by Daniel Arenson
Long ago the Earth stopped spinning leaving one half of the planet in the sunshine and the other half forever bathed in darkness. The humans split into two distinct races that believed the other to be a myth. The secret will soon be out as rumors and prejudice set the stage for war.
The Last Swordmage by Martin Hengst
After thirty years of loyal service to the Imperium, Royce just wanted to retire to a peaceful frontier town. His peace is short lived when he intervenes to save a young slave girl about to be executed for a crime she didn't commit. The girl, Tiadaria seems to possess the same magic Royce has hidden all his life. Now he must teach her about her unique abilities before they both run out of time. An ancient menace is coming, and they have a thousand years of bloodthirsty vengeance to exact.
Outcast by Cheryl Matthynssens
Alador is a young man of mixed heritage who cannot fit into the worlds of his father or mother. His encounter with the blue dragon Renamaum ignites a powerful bond that may finally restore the pact between man and dragon.
After the Ending by Lindsey Pogue and Lindsey Farleigh
Dani O'Connor and Zoe Cartwright both survived the Virus and must now contend with the post-apocalyptic aftermath where strange new abilities begin to manifest. The two best friends are on opposite sides of the country when the Virus strikes. Now they must trust strangers, make sacrifices and even kill to find one another again.
Seduced by Lies by Karpov Kinrade
Rose and Derek have settled into married life and are enjoying their new jobs teaching paranormal kids. Everything seems idyllic, until paranormal teens start showing up dead in the local news, killed by what looks like a wolf attack. As Rose, Derek and their friends seek out the truth of these mysterious killings, a Bishop sent by the Pope arrives to undo everything they've worked so hard to build.
The Star Thief by Jamie Grey
At twenty-three, Renna Carrizal is the most notorious thief in the galaxy. There's just one problem – she wants to get out of the business. After Renna rescues an injured boy on her final job, she finds herself on the run from the mob instead of enjoying retirement. She unwittingly becomes ensnared by MYTH, a top-secret galactic protection agency, who offer her a choice – either help them on their latest mission, or spend the rest of her life on a prison ship.
Vivatera by Candace Thomas
Not even Naomi's prophetic dreams prepare her for the mysterious wanderer who appears just in time to snatch her from danger—nor the upheaval he brings in his wake. No knight in shining armor, Reynolds once risked Naomi's life, and that dark secret again threatens it. When Naomi discovers the world of magic and of what she is capable, not even Reynolds can slow the fate barreling down upon them both.
Go back to the Facebook event to chat with the authors during the event.