This has been one heck of a week. I didn't have high expectations for the release of Ted Saves the World on July 17th. Since the book is my first novel and the first in a series, I figured most people wouldn't buy it until future books had been released. Boy was I wrong.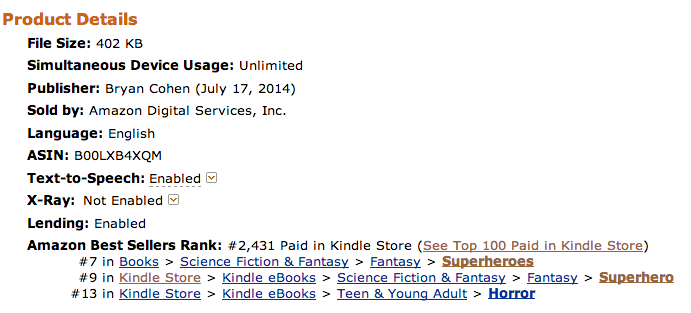 Since the book was released, I've sold more than 700 copies at 99 cents a piece. Twice in the past week alone, I sold more than 50 copies per day. Per day! I've never had sales numbers like that without paying for a boost of advertising. I'm amazed by the response and kind of baffled by it. More than anything else though, I'm completely grateful. To all of you who have bought the book or spread the word about it, I'm truly in your debt. I will repay this debt by continuing to write my tail feather off until I finish the series.
I'm more than halfway through the first draft of book two. In some ways, I feel more comfortable than when I put together book one. I understand what all the characters are doing and why they're doing it. When I try to take Ted or Erica in a direction that doesn't make sense, they make it known pretty quickly that I'm on the wrong track. I realize this phenomenon may make me sound crazy, but I assure you, it's a good thing.
The sales of the first book are encouraging me to get book two out as quickly as possible. During a meeting with some like-minded indie authors last week, my fellow writers told me the best way to take advantage of my sales was to get book two out to market and fast. They even suggested trying to get a short story out there to bridge the gap if I can. It's a cool idea, though it might be too much work for me to handle. Either way, I'm trying to get book two out before November 1. Here's to hoping!
Have you had a chance to pick up Ted Saves the World? If so, let me know your thoughts in the comments below. If not, pick up a copy today!
Top Image: Flickr Creative Commons Hotcakes with Strawberries by Ari Helminen.